Announcement:
The Merry McKentys have joined forces with Solaris as
the Awakeneers
.
About the Band
Once upon a time on a steep snowy mountainside in the backwoods of British Columbia, there was a small cabin. In the cabin were two parents, many children of various sizes, a wood stove, a small battery-powered stereo system that sometimes worked, a mandolin, and several fiddles. Enthusiastic musical squeaks filled the air.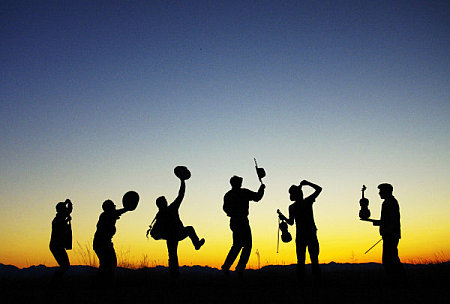 Eventually the cabin and the backwoods both started seeming a bit cramped and the family moved west (nope, no covered wagons) and took up residence on Cortes Island. The squeaks evolved into fiddle tunes, the children became variously sized adults, a guitar, accordion, and keyboard arrived on the scene, and pretty soon The Merry McKentys were playing for local dances and busking on the streets of nearby towns.
Since then they have toured up and down the Salish Sea on a large wooden sailboat and traveled to Europe, bringing their unique and joyful brand of traditional music and contra dancing to enthusiastic audiences in France, Italy, Germany and the UK.